Dr. Rebecca D. Klaper
Dr. Rebecca D. Klaper is a Professor at the School of Freshwater Sciences, University of Wisconsin-Milwaukee and the Director of the Great Lakes Genomics Center. Dr. Klaper and her lab conduct basic and applied research to inform policy decisions involving freshwater resources. More specifically she studies the potential impact of emerging contaminants, such as nanoparticles and pharmaceuticals on aquatic life and how we may design these chemicals to minimize their environmental impact. She uses genomic technologies to examine the mechanisms by which pollutants may impact freshwater organisms and how transcriptomics may help us to determine common and varying responses of organisms to environmental stressors. Dr. Klaper received her Ph.D. in Ecology from the Institute of Ecology, University of Georgia her M.S. in Entomology from UGA and her B.S. in Honors Biology at University of Illinois.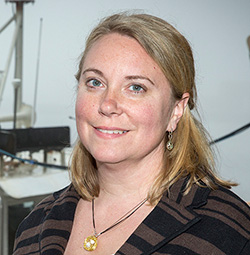 Dr. Rebecca D. Klaper
Director
Angela Schmoldt
Angela Schmoldt has a B.S. in Biology from Wisconsin Lutheran College. Her research experience includes work in developmental biology labs studying heart development with mice, nervous system development with zebra fish and affects of pesticides on lake trout. Angie has been a research specialist at the Great Lakes WATER Institute for 10 years and is now the lead Research Specialist in the Great Lakes Genomics Center and its founding staff member.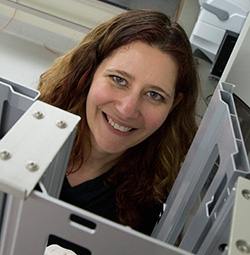 Angela Schmoldt
Lead Research Specialist
Raymond L. Hovey, Ph.D.
Dr. Hovey received his Ph.D. in Microbiology and Molecular Genetics from the University of Goettingen in 2003. His thesis research on Microbial Transcriptomics in collaboration with the Goettingen Genomics Laboratory brought him from the lab bench to the bioinformatics field. Over the next 10 years he was a Research Scientist at the Medical College of Wisconsin (Cancer Genomics and Bacterial Pathogen Transcriptomics – Both at the bench and at the computer) and the Manager of the Biotechnology Research Core Facility and Associate Lecturer at the University of Wisconsin Milwaukee. Currently he is the Bioinformatics Research Specialist at the Great Lakes Genomics Center. Dr. Hovey has always been at the juncture of biotechnology, molecular genetics and bioinformatics. His most recent work is helping to establish the bioinformatics analysis core for next generation sequencing research projects of model and non-model organism.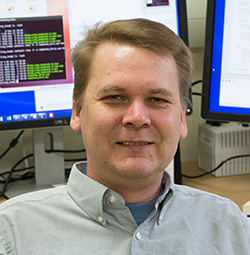 Raymond L. Hovey, Ph.D.
Bioinformatics Research Specialist
Brittany Suttner
Brittany graduated from UWM in 2013 with a B.S. in conservation and environmental science with an emphasis on freshwater resources. She has been involved in various research projects ranging from transgenic zebrafish development and evaluation to population genetics of wildlife species. Brittany has experience with DNA extraction including ancient DNA, as well as RNA extraction and cleanup, microsatellite analysis using the 3730 sequencer, and Sanger sequencing.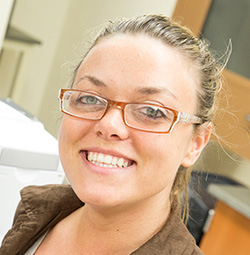 Brittany Suttner
Research Specialist